Paint Colour Consultation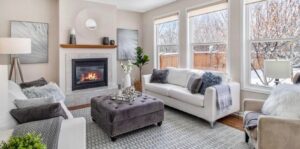 The way you feel in a space can be directly affected by the colour you have on your walls. If you are looking to update your current paint colours, Restyled Spaces & Home Staging Company can provide Paint Colour Consultation services for any room in your home, as well as exterior options.
Wanting to try a new bold colour in your powder room, or tired of a totally "beige house" from the builder? Let us help you explore the fantastic world of colour. We are a proud registered designer with Benjamin Moore, Sherwin Williams, Randall's Paints and Dulux stores across the Ottawa region.
Pricing
COLOUR CONSULTATION:
Colour Consultation = $200 (within the Ottawa Area + Standard property).
Discounts with Suppliers given at time of Consultation.
Decorating Consultations; Uncover hidden potential
Do you want to love the space you live in, but want to make some changes but aren't really sure how to go about it? Today's families look very different than they did 25 years ago, and how they want their houses to function for them is also very different. Blended families, inherited pieces and downsizing all pose common challenges in today's households. If you need help envisioning a new layout, or how to turn a room from something unusable into something the entire family will use and love, give us a call to help you see the hidden potential in your home.
Pricing
STANDARD CONSULTATION: 
Decorating Consultation fees $225 (within the Ottawa Area). If additional time is required or travel outside the City + $100 hourly.
All prices are subject to HST.