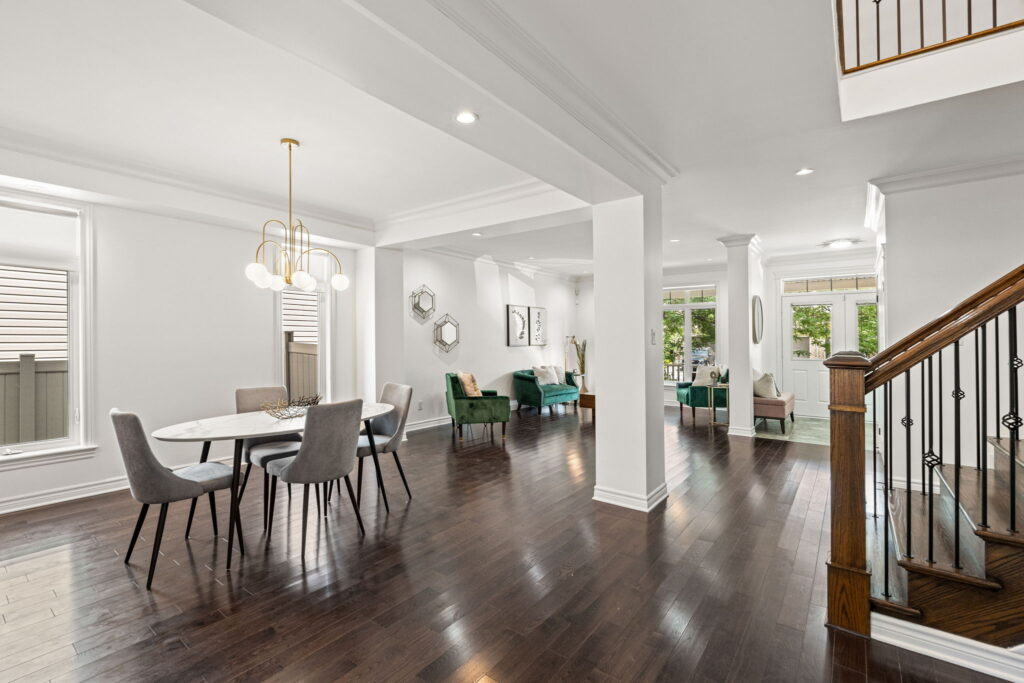 For a new REALTOR®, understanding the importance of staging is crucial because it can significantly impact the success of your real estate transactions.
Some key points to keep in mind regarding the importance of Staging:
First Impressions Matter: Staging helps create a positive and memorable first impression. When prospective buyers walk into a well-staged home, they can immediately see its potential, making them more likely to form an emotional connection with the property.
Increased Appeal: Staged homes tend to look more appealing in listing photos and during in-person showings. Professional staging can make a property look more inviting, well-maintained, and move-in ready, which can attract more buyers and potentially lead to higher offers.
Branding for your Business: REALTORS® who form partnerships with their local certified professional Stagers, have listings that stand apart from the others. As a REALTOR® often looking to differentiate themselves from their competitors, having listings that consistently look polished, well presented, and sell quickly, can use their impressive statistics to market themselves to their new clients.
Faster Sales: Well-staged homes tend to sell more quickly than vacant or poorly presented properties. This is because staging helps buyers visualize themselves living in the space, making it easier for them to make a purchase decision.
Higher Selling Price: Staging can often lead to a higher selling price. When buyers perceive a home as move-in ready and well-maintained, they are more likely to be willing to pay a premium for it.
Competitive Advantage: Staging sets your listings apart from the competition. In a crowded real estate market, a well-staged home can be more memorable and attract more attention from both buyers and other real estate professionals.
Highlighting Property Features: Staging should emphasize a property's best assets, along with its true use and functionality. A certified professional stager will bring all the architectural features in focus, use complimentary colours to highlight all the home's best features, and create a memorable experience for the buyer.
Cost-Effective: Staging doesn't have to be expensive! Simple, cost-effective staging techniques, like decluttering and enhancing curb appeal, can go a long way in making a property more attractive to buyers. By working with a certified professional Stager, they can assist the seller with a full range of services that support the preparation of the home.
Versatility: Staging can be adapted to fit different types of properties, styles, and budgets. It can be used for vacant homes, occupied homes, or homes in need of minor updates.
Professional Guidance: It's advisable to work with a certified professional Stager, who is trained in understanding staging principles. Staging IS NOT decorating, as the design principles are completely different. Staging is more than adding pillows or furniture; it involves creating a cohesive and appealing look specific to that one property, that highlights the best features and appeals to the broadest target audience.
Communication: Effective communication with sellers is essential. New REALTORS® should educate their clients about the benefits of staging and discuss how it can positively impact the sale of their property. Some sellers may be hesitant or not understand the value of staging, so being able to explain its benefits is key.
Various Levels of Staging: There are various staging approaches, including full Staging (of the entire property which has its definite emotional advantages for the buyer), partial staging (concentrating on a few rooms that are most important to the buyer) and even partial staging (adding in smaller items such as Artwork, Area rugs, soft furnishings, lamps, etc..) which can be extremely beneficial depending on the circumstances of the market, location of the property and budget.. Knowing the pros and cons of each method and when to use them is important.
Understanding the importance of staging and how to use it effectively can help new REALTORS® better serve their clients and improve their success in the real estate industry. Staging is a valuable tool for creating attractive listings and facilitating faster, more profitable transactions.
To find out more about staging with Restyled Spaces and our agent packages, visit: Agent Packages – Restyled Spaces & Home Staging Co.